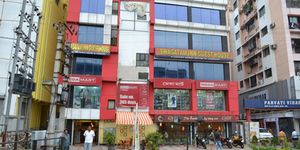 Swagatam Inn ( Luxury Guest House)
No 8/2221,Kazi Nazrul Islam Avenue,VIP Road,Beside Big Bazar, Pin - 700059
Distance from Airport: 3 km, Railway Station: 7 km, Bus Stand: 8 km
Swagatam Inn is a Budget hotel located on Kazi Nazrul Islam Avenue, and surrounded by happening malls and markets. The hotel houses shops in the ground floor and the higher floors maintain well furnished AC rooms. Variety of services and easy accessibility to most of the attractions around the city make the place a favorable option amongst those traveling on business as well as leisure.
Hotel Facilities
Cable Tv
Car Rental Facility
Coffee Shop
Hotwater
Internet Facility
Laundry
Room Service
Check-in/Check-out timings
Check-in time: 12:00 hours
Check-out time: 12:00 hours
Cancellation Policy
Below policy is based on the time booking is cancelled:
For cancellation done prior to 15 days before check in date, service charge of Rs. 500/- per room will be applicable as cancellation charges.
For cancellation on Check in date and upto 10 days before Check in date the cancellation charge will be 100% of your total stay.
All bookings done for any Blackout or Sold out dates will be non refundable.
All group bookings(10 room nights & above) will be non refundable.
There will be no refunds for no shows and early check outs.
Guest will be responsible for any damages or incidentals at the hotel. Please provide a credit card or an appropriate payment option as guarantee for incidentals (as per respective hotel policy)
For cancellation done between 15 to 10 days before check in date, the cancellation charge will be 50% of your total stay.
Terms and Conditions
Your reservation is absolutely secure. All personal data is encrypted and will be processed in a secure way. Via.com takes the privacy of your personal data very seriously. Your personal information will only be used to process your booking. More information can be found in our
terms and conditions
.